VN5 ELECTRIC VAN
REQUEST A TEST DRIVE BELOW
Redefining expectations of what electric vans can do, VN5 can offer true zero-emissions transport with none of the downsides. An on-board range-extender, multiple drive modes, flexible charging and outstanding efficiency are built in as standard.
Seamlessly handling inter- and intra-city operations, the VN5 can go anywhere without interruption.
With the VN5, businesses and fleets can move to a low-cost, fully future-proofed operating model while maximising productivity, vehicle lifespan, and freedom to deliver to any destination.
Meet the next generation of green operations. Meet VN5.
IT WORKS AS HARD
AS YOU DO
Complete every mile of every journey with confidence. The VN5 is the complete logistics solution for every business, whether making short hops in urban Low Emissions Zones or long-distance motorway journeys.
LESS DOWNTIME, MORE UPTIME
The VN5 is made to spend more time on the road and less time at the charging point or in the service bay. Purpose-built for productivity, it makes range anxiety a thing of the past and allows drivers and businesses to get the most from every journey.
COMMERCIAL DELIVERY YOU CAN COUNT ON
The VN5 delivers commercial benefits throughout its entire lifecycle. Owners will notice the difference every day, with significant fuel savings over a conventional van and no-fee driving in emissions-controlled zones. A long-lasting build, minimal maintenance costs and excellent residual value all further reduce the total cost of ownership.
LOAD EASILY, WORK SAFELY
The VN5 is built to provide a practical working environment. Its cargo area is not only spacious but also well-shaped, accessible, and easily convertible to meet specific requirements. Transfer your business to the VN5 and realise the benefits quickly and easily.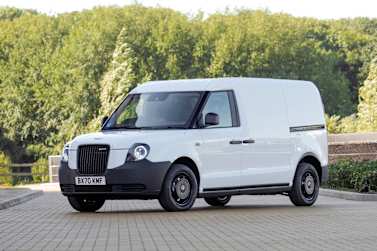 BUSINESS
ELIGIBLE FOR MAXIMUM PLUG-IN VAN GRANT (£6,000)
Highlights include:
• Driver & passenger seats with lumbar support
• Two zone climate control (A/C)
• Bluetooth connectivity
• Two USB ports
• 9-inch touch screen
• Keyless start
• DAB
• 12V power socket in the cab
• Automatic windscreen wipers
• Auto LED headlights with automatic adjustment
• LED daytime running lights
• Electrically adjusted & heated mirrors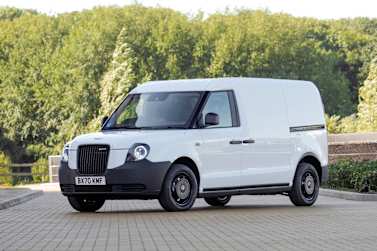 CITY
ELIGIBLE FOR MAXIMUM PLUG-IN VAN GRANT (£6,000)
BUSINESS equipment plus
• Heated windscreen
• Front and rear parking sensors
• Additional storage under the driver and passenger seats
• Road Sign Information system (RSI)
• Speed Limit Intelligent Function (SLIF)
• Lane Departure warning
• Curtain driver and passenger airbags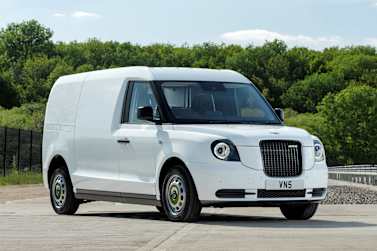 ULTIMA
ELIGIBLE FOR MAXIMUM PLUG-IN VAN GRANT (£6,000)
CITY equipment plus
• 22kW AC fast charging
• Charcoal grey metallic paint
• Body coloured front and rear bumpers and D pillar covers
• Silver steel wheels
• Rear view camera
• Fully electrically adjusted and heated luxury driver and passenger seats
• Satellite Navigation
*Based on 1 full charge per day (5 days week / 48 weeks = 7,200kWh), supplied Via Pre-loaded BP Pulse Charge card, sent directly to Customer after vehicle Handover. The BP Pulse Charge Card offer is limited to dealer managed retail sales only. Corporate fleet sales (i.e. those attracting higher terms and a handling fee) are not applicable for this offer. The process to claim the BP charge card on behalf of the customer will be detailed separately. This offer cannot be exchanged for a purchase discount, cash alternative and is based on a new VN5 sales ordered and delivered before 31 March 2021. The BP Pulse Charge Card terms and conditions and national locations can be found at the following web address or through their own BP App. https://network.bppulse.co.uk.
**In accordance with Worldwide Harmonised Light Vehicle Test Procedure (WLTP) figures (October 2020). These figures may not reflect real life driving results, which will depend upon a number of factors including accessories fitted (post-registration), variations in weather, driving styles and vehicle loads.Pure EV range of 60.9 miles, official EAER (Equivalent All Electric Range) figure, achieved under WLTP (Worldwide Harmonised Light Vehicle Test Procedure) test conditions.
†Achievable with bespoke vehicle configuration.
‡Basic recommended retail price excludes VAT and includes Government Plug-in Van Grant of £8,000 which can be applied to UK VN5 sales.
.
View our wide range of cars featuring Suzuki, Kia and MG. Large stock available.
Get in contact with us so we can arrange a time and a date for you to come into our branch.
No matter your inquiry, at Gillanders we will always put our customers first.